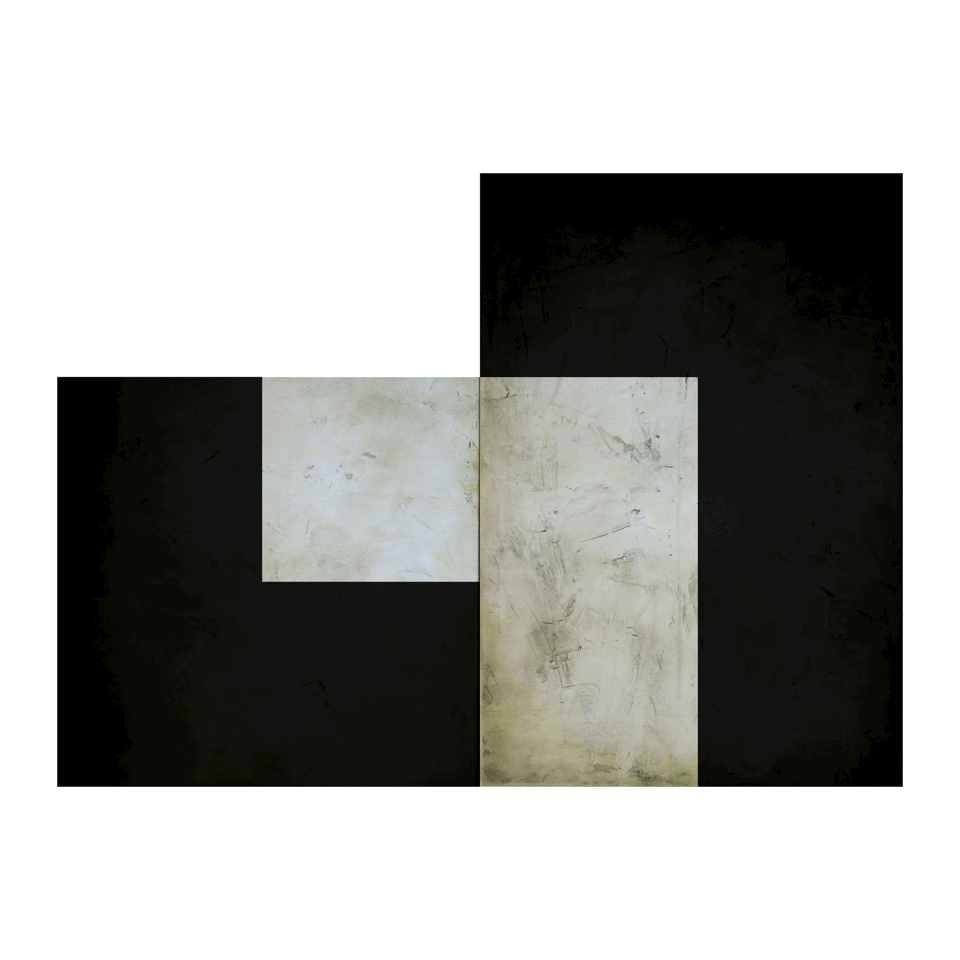 Mladi umetnici, distancirani od vseh predmetno reprezentativnih pomislekov, ki se v Galeriji FO.VI Kidričevo predstavljata prvič, se ukvarjata z zaznavnimi procesi, radikalno razgradnjo in poenostavitvijo oblik, vse do preučevanja oblikovnih elementov, ki predstavljajo sintaktično osnovo vizualne govorice.

Iz tega se porajata dva različna načina dojemanja oblike in geometrije. Duša Jesih (Ljubljana, 1977) s pomočjo slikarstva in Paola Ravasio (Varese, 1978) s pomočjo kiparstva se tako vsaka po svoje odpirata prostorom, v katerih duša in telo še vedno lahko vzpostavljata dialog ob branju prostora, svetlobe in oblikovnega izraza.

Medtem ko kompleksne skulpture Paole Ravasio predstavljajo napeta telesa in mišice, ki se želijo osvoboditi od zapletenih geometričnih oblik in se poigravajo s kontrasti med oblikami, materiali in enobarvnostjo smole in brona, nas platna in oljne slikarske instalacije Jesihove s svojo strukturo, sestavljeno iz ritma, gibanja, barv in geometrične harmonije, popeljejo k novi, sodobni obravnavi abstrakcije in pri tem zahtevajo hermenevtičen prispevek opazovalca. (FORMA VS GEOMETRIJA, Marika Vicari)

O avtoricah:
Paola Ravasio je bila rojena leta 1978 v Varese, Italija. Po zaključku umetniške gimnazije Frattini z odliko, se je izpo-polnjevala v kiparskih laboratorijih v Pietrisanti in Carrari. Svoje znanje je nato še poglobila v ateljeju slavnega kiparja Pietra Scampinija v Castrannu.
Za sabo ima številne razstave v Italiji in Švici. Leta 2014 je prejela kiparsko nagrada Sangregorio. Živi in dela v Caronno Varesino v Italiji.

Duša Jesih je bila rojena leta 1977 v Ljubljani. Leta 1996 je končala Srednjo šolo za oblikovanje in fotografijo v Ljubljani. Leta 2003 je diplomirala iz slikarstva na Šoli za risanje in slikanje - Visoka strokovna šola, Ljubljana in prav tam leta 2006 zaključila tudi specialistični študij slikarstva. V letih 2006/07 se je študijsko izpopolnjevala v Parizu, Cité Internationale des arts.
Leta 2012 vpiše magistrski študij slikarstva na Akademiji za likovno umetnost in oblikovanje v Ljubljani, leta 2015 prejme študentsko Prešernovo nagrado. Živi in dela v Ljubljani.
---------------------------------------------------
About the authors:
Paola Ravasio born in 1978 in Varese. After having attended the School of Arts Frattini in her city, she moved to Carrara where she learned to work with marble. Back in Varese, she continued and expanded her research at Pietro Scampini's atelier. Her sculptures are the essence of energy, expressed through stretched muscles and tangled bodies, which constantly try to escape from the modular and geometrical structures entrapping them. This endless blending between static and sinuous shapes creates hard-hitting contrasts, though toned down by the smooth surfaces. Large and small works full of tension, an elixir of energy, vigour and personality.
Paola Ravasio realized various solo and group exhibitions in Italy, Ticino, Switzerland and participated to many Art Fairs (Verona, Genoa, Bergamo and Strasbourg). In 2014 she won the first edition of the Premio Sangregorio. One of her bronze sculptures is located in the public gardens in Sondrio. She lives and works in Caronno Varesino, near Varese.

Duša Jesih was born on 1977 in Ljubljana, Slovenia. She lives and works in Ljubljana, the capital of Slovenia. In 1996 she finished high school of Art, Design and Photography in Ljubljana and in 2003 graduated from Fine Arts on Art house - College for Visual Art, Ljubljana. In 2006 she post graduated in painting. For the present she lives and works in Ljubljana. Basically she is engaged in painting and printmaking which caught in some kind of conceptually levels lead up to multimedia. She participated in numerous exhibitions, colonies, residence programs and projects at home and abroad. Since 2004 she is a member of Community association of Slovenian artists ZDSLU. Since 2006 she is a mentor of art classes on Slovenian university for third life period. From 2006 to 2007 she was twice on expert and research advanced studies in Paris, living in Cite Internationale des arts. From 2008 she has a status of self-employed artist. In 2012 she entered MA studies on ALUO - Academy of fine arts and design, in Ljubljana. In 2015 she gets Presern award - highest national cultural student award.